Protein folding - Chignolin
Chignolin sequence GYDPETGTWG
Conditions
| | |
| --- | --- |
| Force field | AMBER-i |
| Water | Implicit (GB) |
| Charge reduction factor | 0.5 |
| Method | Replica exchange molecular dynamics (REMD) |
| Number of replicas | 8 |
| Attempt to exchange every | 16 steps |
| Exchange attempts | 32 |
| Temperature range | 273.15 - 370.00 K |
| Total simulated process time | 15 ns for each replica |
| Computation time | 22 hours on 4-core processor |

Starting conformation - linear
Results
| | |
| --- | --- |
| Folding events | 6 |
| Time to the first folding event | 3.5 ns |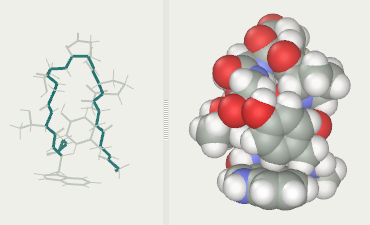 Chignolin experimental (pdb1UAO NMR)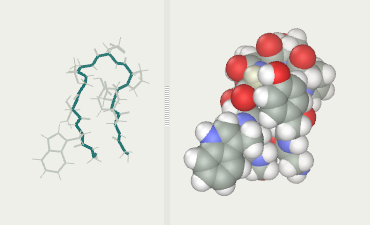 replica-1 after 3.5 ns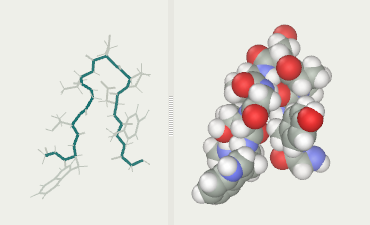 replica-4 after 4 ns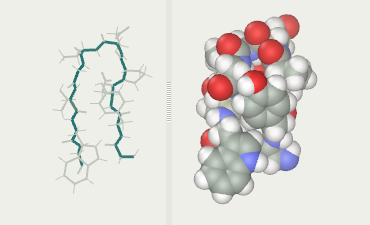 replica-2 after 15 ns
Literature
Honda S, Yamasaki K, Sawada Y, Morii H.
10 residue folded peptide designed by segment statistics.
Structure. 2004 Aug;12(8):1507-18
Suenaga A, Narumi T, Futatsugi N, Yanai R, Ohno Y, Okimoto N and Taiji M.
Folding Dynamics of 10-Residue β-Hairpin Peptide Chignolin.
Chem. Asian J. 2007, 2, 591-598
MD simulations in an explicit solvent. Typical time is 500 ns.
Honda S, Akiba T, Kato Y S, Sawada Y, Sekijima M, Ishimura M, Ooishi A, Watanabe H, Odahara T and Harata K.
Crystal Structure of a Ten-Amino Acid Protein.
J. Am. Chem. Soc. 2008, 130, 15327-15331
A novel protein, CLN025, was designed based on the sequence of chignolin.
Conditions 2
| | |
| --- | --- |
| Force field | AMBER-i |
| Water | Implicit (GB) |
| Charge reduction factor | 0.5 |
| Method | Replica exchange molecular dynamics (REMD) |
| Number of replicas | 4 |
| Attempt to exchange every | 16 steps |
| Exchange attempts | 32 |
| Temperature range | 273.15 - 370.00 K |
| Total simulated process time | 135 ns for each replica |
| Computation time | 65 hours on 4-core processor |
Results
| | |
| --- | --- |
| Folding events | 23 |
| Time to the first folding event | 1.7 ns |
Conditions 3
| | |
| --- | --- |
| Force field | AMBER-i |
| Water | Implicit (GB) |
| Charge reduction factor | 0.5 |
| Method | Replica exchange molecular dynamics (REMD) |
| Number of replicas | 8 |
| Attempt to exchange every | 16 steps |
| Exchange attempts | 32 |
| Temperature range | 273.15 - 350.00 K |
| Total simulated process time | 18 ns for each replica |
| Computation time | 18 hours on 4-core processor |
Results
| | |
| --- | --- |
| Folding events | 15 |
| Time to the first folding event | 1.3 ns |
| Exchange accepted | 34 % |
back