Protein folding - Trp-Cage
Trp-Cage sequence NLYIQWLKDGGPSSGRPPPS
Conditions
| | |
| --- | --- |
| Force field | AMBER-i |
| Water | Implicit (GB) |
| Charge reduction factor | 0.5 |
| Method | Replica exchange molecular dynamics (REMD) |
| Number of replicas | 8 |
| Attempt to exchange every | 16 steps |
| Exchange attempts | 32 |
| Temperature range | 273.15 - 370.00 K |
| Total simulated process time | 40 ns for each replica |
| Computation time | 93 hours on 4-core processor |


Starting conformation - linear
Results
| | |
| --- | --- |
| Folding events | 7 |
| Time to the first folding event | 10 ns |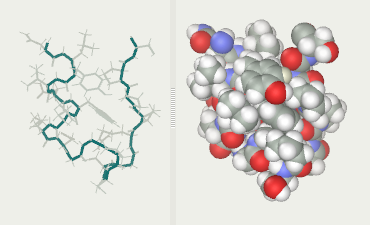 Trp-Cage experimental (pdb1L2Y NMR)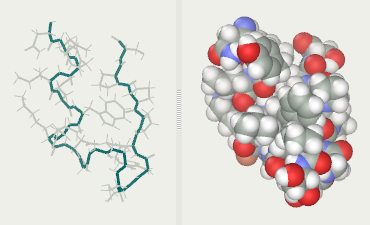 replica-5 after 10 ns
Literature
Neidigh J.W., Fesinmeyer R.M. and Andersen N.H.
Designing a 20-residue protein.
Nat. Struct. Biol. 2002, 9, 425-430

Qiu L, Pabit S.A., Roitberg A.E. and Hagen S.J.
Smaller and Faster: The 20-Residue Trp-Cage Protein Folds in 4 μs.
J. Am. Chem. Soc. 2002, 124, 12952-12953
The experimental folding rate.
Simmerling C., Strockbine B. and Roitberg A.E.
All-Atom Structure Prediction and Folding Simulations of a Stable Protein.
J. Am. Chem. Soc. 2002, 124, 11258-11259
10 ns folding in modified AMBER99 force field. MD at 325 K. Solvation effects were incorporated using the Generalized Born model.
Conditions 2
| | |
| --- | --- |
| Force field | AMBER-i |
| Water | Implicit (GB) |
| Charge reduction factor | 0.5 |
| Method | Replica exchange molecular dynamics (REMD) |
| Number of replicas | 8 |
| Attempt to exchange every | 16 steps |
| Exchange attempts | 32 |
| Temperature range | 273.15 - 350.00 K |
| Total simulated process time | 12 ns for each replica |
| Computation time | 41 hours on 4-core processor |
Results
| | |
| --- | --- |
| Folding events | 3 |
| Time to the first folding event | 8 ns |
| Exchange accepted | 20 % |
back